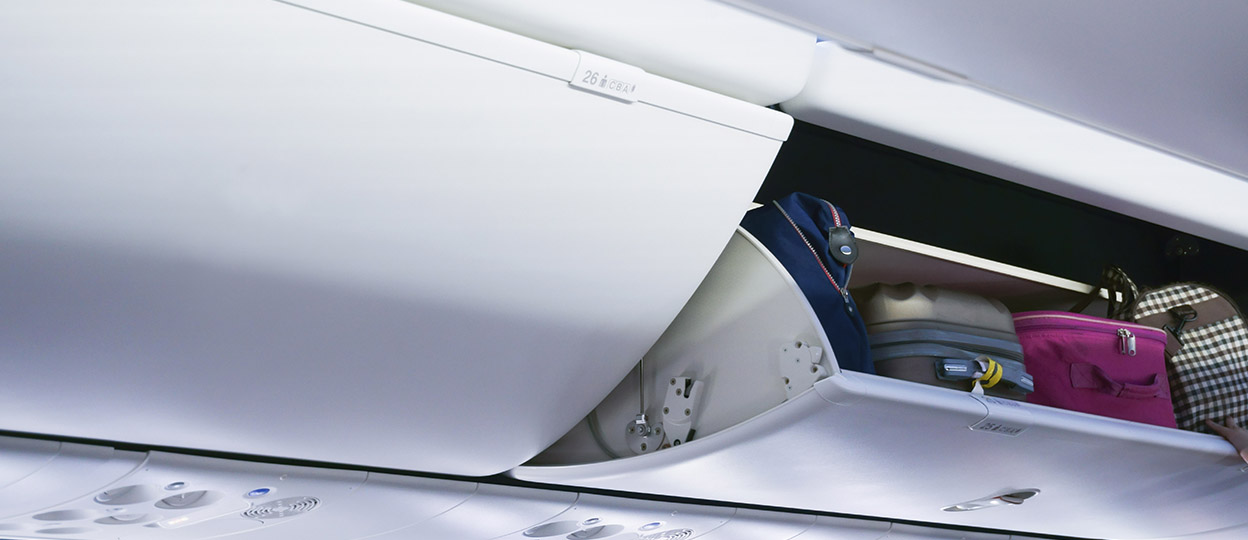 Hand baggage
Croatia Airlines hand baggage allowance per passenger is limited to one cabin bag plus a smaller handbag (e.g. either 1 handbag or 1 laptop bag or 1 briefcase).
Cabin bag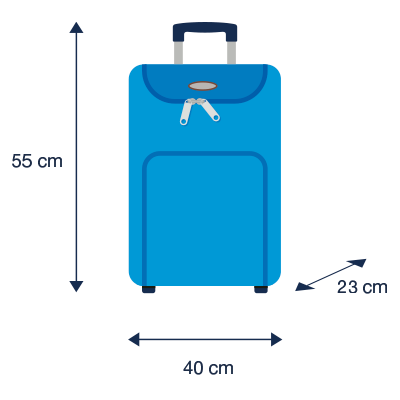 | | | |
| --- | --- | --- |
| | Number of bags | Size |
| Economy Class | 1 - max 8 kg | max 115 cm (55x40x20 cm) |
| Business Class | 2* - max 8 kg (per piece) | max 115 cm (55x40x20 cm) and 57x54x15 cm (foldable garment bag) |
* In exceptional cases, depending on the type of aircraft, the hand baggage allowance for Business Class passengers may also be limited to 1 item.
Additional handbag
| | | |
| --- | --- | --- |
| | Number of bags | Size |
| Economy Class | 1 | 40x30x10 cm |
| Business Class | 1 | 40x30x10 cm |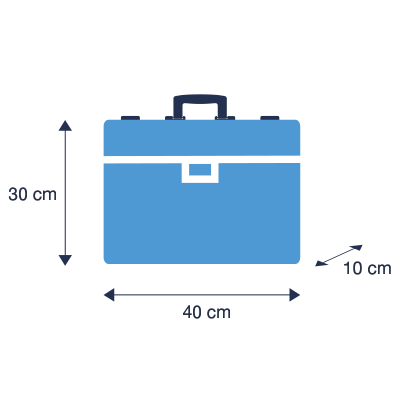 Baggage that exceeds the size/weight limit will not be allowed on board. Such baggage will be transported as checked baggage, which might result in additional charge in certain cases.
Please make sure that your baggage complies with baggage, piece, size and weight restrictions.
In case it is determined at the gate before departure that a passenger's baggage is not in accordance with piece, size and weight restrictions or conditions of the paid fare family, Croatia Airlines reserves the right to deny boarding to the passenger.
The hand baggage allowance varies depending on the type or aircraft, which means that your hand baggage might have to be transported in the aircraft hold even if it does not exceed the hand baggage weight and size limit. In such cases there will be no additional charges.
For passengers travelling with infants (under 2 years of age), hand baggage allowance also includes:
a stroller or 1 child car seat or 1 child carrier*
baby food to be fed to the baby during the flight.
* Children's strollers, car seats and carriers need to be handed over at the gate or before boarding the aircraft so they can be loaded into the cargo hold. Car seats are allowed on board the aircraft only if the passenger has booked a seat for the child.
Additionally, children up to 4 years of age are entitled to one stroller free of charge. Babies not occupying a separate seat are not entitled to any other items of hand baggage except for those listed above.
For the ill and the disabled, hand baggage allowance also includes:
1 pair of crutches and/or a support brace or any other prosthetic device.
We advise you to place your travel documents, medical records, business documents, artworks, computers and other electronic devices, musical instruments, photos, money, jewelry, medication, and keys in the hand baggage. We also advise you to check the Forbidden items list on our website for the information on other items which are not allowed in the hand baggage and which may be damaged or taken away during security checks, for which Croatia Airlines cannot not be held liable.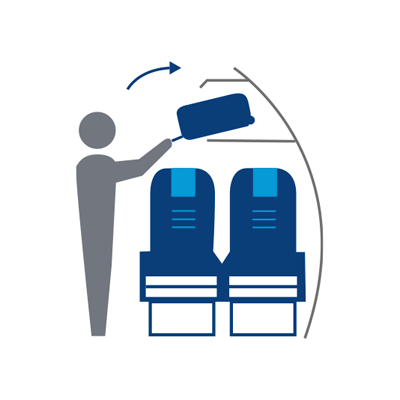 Larger hand baggage items should be placed in the overhead compartment.
Hand baggage should be light enough for the passenger to be able to lift it to the overhead compartment without assistance. Our cabin crew will be happy to help you find space to fit your baggage.
You may place smaller bags tagged as Cabin bags under the seat in front of you, unless that seat is located in the emergency exit row.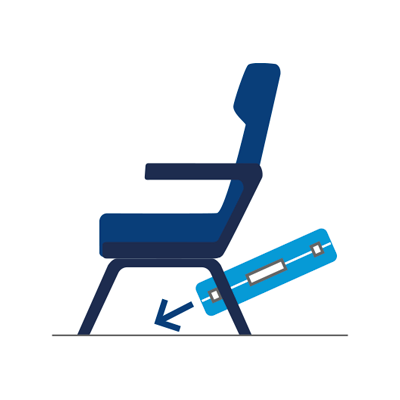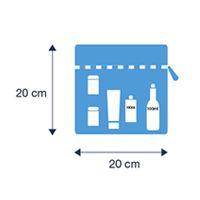 The following liquids are allowed on board:
liquids purchased at duty free shops or on board the aircraft, provided that they are placed in sealed security tamper-evident bags (STEBs) which are not to be opened until the passenger has reached the final destination
liquids packed in individual packaging of up to 100 ml or 100 g placed in a transparent resealable one-litre plastic bag
liquids to be used during flight for medical purposes or for special dietary purposes (baby food).
Other liquids may be transported in checked baggage.
Electronic devices may only be used if they are in "flight mode". Bulky personal electronic devices must be securely stowed whenever the seat belt sign is turned on.
List of allowed electronic devices:
mobile / smart phones
tablet computers
noise-cancelling headphones
digital audio/MP3 player
electronic games
e-readers
laptops/notebook computers
portable DVD/CD players
bluetooth devices
personal cameras
medical devices
electric shavers.
Prohibited electronic devices:
Simulated smoking devices may not be used on board.
Self-balancing devices powered by lithium batteries are allowed neither in the hand baggage nor in the checked baggage.
Additional instructions regarding transportation of electronic devices can be found here.
Use of electronic devices during various phases of flight

Please select departure and arrival location, and return trip to see the "Best prices" calendar
Price is currently not available.
Best price for round trip
Price for return flight per 1 adult passenger and includes taxes and fees.