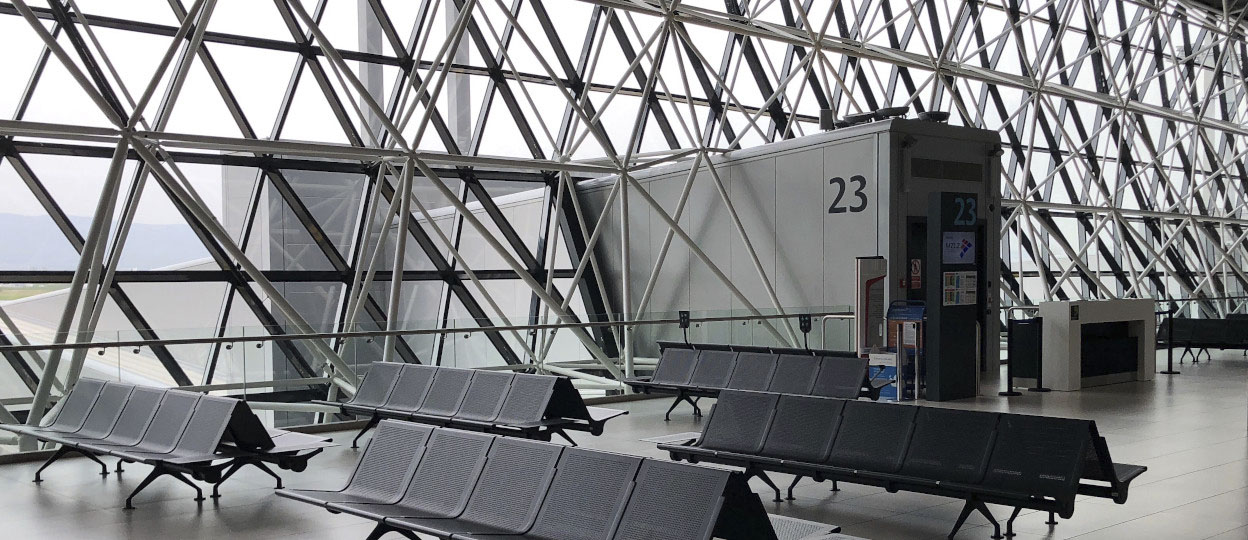 Airports in Croatia
City
Transport information
Dubrovnik
Platanus Travel Agency travel agency's bus stations:

- Main bus station – Gruž
- bus station next to Grawe insurance building
- Cable car bus station
- Main bus station

For more infomation please contact Platanus Travel Agency (Tel: +385 20 358 516) or Dubrovnik Airport (Tel: +385 20 773 100).

Pula
Bus transport has been organised in cooperation with the company Flis d.o.o., and passengers will be transported by shuttle bus from the city of Pula to the Airport and back. During April, the bus timetable will follow the flight schedule, and starting from May buses will depart every hour. You can view the schedule here.
The price of one ticket is HRK 30, and tickets can be purchased in the bus or online.

Find out more here.
Rijeka
Rijeka - Zagreb


Pleso Prijevoz is the company that organizes van transport between the city of Rijeka and Zagreb Airport.
Departure from Zagreb Airport to Rijeka (Main bus station - Žabica) is every day at 15:30.
Departure from Rijeka (Jelačić Square) to Zagreb Airport is every morning at 05:00.

NEW! Online sales: www.plesoprijevoz.hr

Info Tel. (+385-51) 330-207,336-757,(+385-1)6331-999; Mob (+385-98)472-539

Split
Bus transport is organized in co-operation with Pleso Prijevoz. You can check the timetable here.
Contact: tel. +385-21-203-119, +385-21-203-508, +385-21-203-507; e-mail: split@plesoprijevoz.hr; website: www.plesoprijevoz.hr.
Zadar
Bus transport is organized in co-operation with Liburnija, and the bus leaves the airport soon after the arrival of Croatia Airlines scheduled flight or 75 minutes before its departure. You can find more details here or call +385-23-250-094.

Zagreb
Bus transport is organized in co-operation with Pleso Prijevoz.
You can check the timetable here
For all departures before 6 a.m. and after 8 p.m. please look for information on +385-1-6331-982, e-mail: plesoprijevoz@plesoprijevoz.hr or at www.plesoprijevoz.hr
In cooperation with our partners, Croatia Airlines offers its Business Class passengers and Star Alliance Gold status passengers the possibility to rest in comfortable lounges the list of which can be found in the table below.
Croatia Airlines, in collaboration with partners, offers the option of taking a rest at airport lounges for Business Class and Star Gold status passengers.
Please note that we are, unfortunately, unable to offer this service to passengers on flights within Croatia, due to setup of airport facilities.
City
Airport
Lounge name
Amsterdam
Amsterdam Airport Schiphol
Aspire Lounge
Athens
Athens International Airport El. Venizelos
Swissport Executive Lounge
Barcelona
Barcelona Airport
Sala VIP Miró, Sala VIP Pau Casals
Belgrade
Nikola Tesla Airport
Business Lounge
Berlin
Berlin Brandenburg Airport
Lufthansa Business Lounge
Brussels
Brussels Airport
Diamond Lounge
Bucharest
Bucharest Henri Coandă International Airport
Airport Business Lounge
Copenhagen
Copenhagen Airport
SAS Lounge
Dublin
Dublin Airport

T1 Lounge
Dubrovnik
Dubrovnik Airport
Dubrovnik Airport Business Lounge

Dusseldorf
Dusseldorf Airport
Lufthansa Business Lounge
Frankfurt
Frankfurt Airport
Lufthansa Business Lounge
Helsinki
Helsinki Airport

Aspire Lounge
London
London Gatwick Airport
No.1 Lounges
London
London Heathrow Airport
Lufthansa Business Lounge
Milan
Milan Malpensa Airport
Sala Montale
Mostar
Mostar Airport

Business Lounge

Munich
Munich Airport
Lufthansa Business Lounge
Oslo
Oslo Airport
SAS Sweden
Paris
Paris - Charles de Gaulle Airport
Salon Paul Maxence
Prague
Prague Airport
MasterCard Lounge
Rome
Rome Fiumicino Airport
Star Alliance Lounge,
Prima Vista Lounge,
British Airways Executive Club Lounge
Saint Petersburg
Pulkovo Airport Saint Petersburg
Business Lounge International
Sarajevo
Sarajevo International Airport
Sarajevo International Airport Business Lounge
Skopje
Skopje International Airport
Primeclass Business Lounge
Split
Split Airport
Split Airport Business Lounge

Stockholm
Stockholm Arlanda Airport
Star Alliance Entrance
Venice
Venice Marco Polo Airport
Marco Polo Club
Vienna
Vienna International Airport
Austrian Business Lounge
Zadar
Zadar Airport
Zadar Airport Business Lounge
*temporarily unavailable
Zagreb
Zagreb International Airport
Primeclass Lounge
Zurich
Zurich Airport
Swiss Business Lounge
Star Alliance lounges worldwide are marked with a unique Star Alliance signs.
In accordance with the rules already in place, Star Alliance lounges worldwide may be used by a passenger with Star Alliance Gold status who travels with one of the airlines from the Star Alliance group, as well as his guest (an accompanying person) no matter what class they travel in. From 3 May 2021, these travel companions must travel on the same flight.
It does not matter whether it is the passenger's initial flight or a transfer flight, what is important is that the passenger is waiting for a flight operated by an airline from the Star Alliance group. To check which status of individual airline frequent flyer programs from the Star Alliance group corresponds to the Star Alliance Gold status, please see here.
Other types of travellers according to the Terms of Use of the Star Alliance lounges please check here.
You can get informed about where you can find Star Alliance lounges around the world and which facilities they offer by clicking here.
This Star Alliance benefit allows you to proceed more smoothly through security, bypassing the usual queues.
Gold Status holders (including those travelling in Economy Class) or customers flying with a member airline in First Class or Business Class are all eligible for Star Alliance Gold Track access.
To see where Gold Track security will be available during your journey on Croatia Airlines flights, please see the table below.
| | | | |
| --- | --- | --- | --- |
| Airport | Terminal / Hall | Name | Availability |
| Amsterdam Airport Schiphol | Hall 3 | Priority Lane | Departures & Transfers |
| Athens International Airport El. Venizelos | Main Terminal | Star Alliance Gold Track | Departures |
| Brussels Airport | Main Terminal | Star Alliance Gold Track | Departures & Transfers |
| Dusseldorf International | Concourse A | Priority Lane | Departures |
| Frankfurt International Airport | Terminal 1 | First / Business Class Lane | Departures & Transfers |
| Hamburg Airport | Main Terminal | Fast Lane | Departures |
| London Heathrow Airport | Terminal 2 | Star Alliance Gold Track | Departures & Transfers |
| Lisbon Airport | Terminal 1 | Green Way | Departures |
| Lyon St-Exupery Airport | Terminal 2 | Coupe-file | Departures |
| Munchen International Airport | Terminal 2 | Star Alliance Gold Track | Departures |
| Milan Malpensa Airport | Terminal 1 | Gold Track | Departures |
| Prague Ruzyne International Airport | Terminal 2 | Fast Track | Departures |
| Venice Marco Polo Airport | Main Terminal | Priority Lane | Departures |
| Franjo Tuđman Airport Zagreb | Main Terminal | Star Alliance Gold Track | Departures |
| Zürich Airport | Main Terminal | Priority Lane / Star Gold | Departures & Transfers |