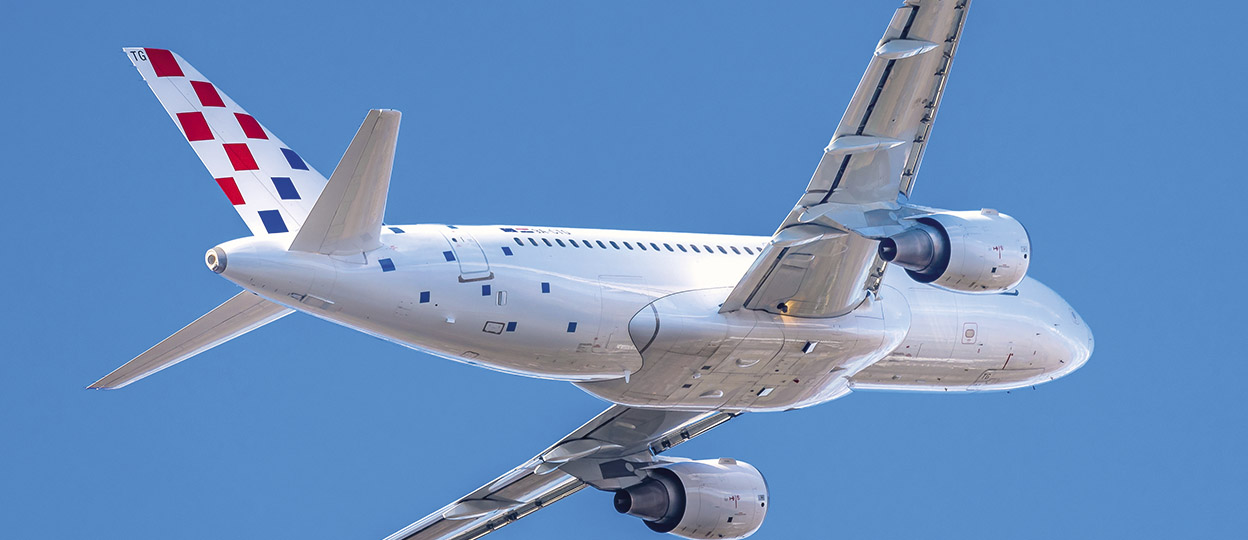 Important information about COVID - 19
Passengers are advised to bring and wear medical face protective masks aboard all Croatia Airlines flights.
We care about your safety
Our cabin crew
Our cabin crew members who are in direct contact with passengers and ground personnel are equipped with adequate protective gear.
Disinfection and cleaning of aircraft
All our aircraft are being regularly cleaned and disinfected every day. Crew members are equipped with different disinfectants.
Air in the passenger cabin
Passengers and crew breathe a mixture of fresh and recirculated air aboard the aircraft. The air is mixed with a fresh supply from the engines and run through HEPA filters. These are hospital quality filters which are able to trap particles as small as bacteria and viruses.
Please help us keep you safe, take care of yourself and others by following our instructions:
Please check your temperature before going to the airport.
In case you are not feeling well or you have respiratory infection symptoms that may signify COVID-19, do stay home and call our Contact Center to cancel your ticket.
We kindly ask all passengers to check the current travel and entry restrictions of your destination as well as hygienic and protective measures against COVID-19 at the airport of your departure and arrival. Detailed information can be found here.
Due to the situation, boarding will start earlier than usually. Passengers will board the aircraft in smaller groups (5-10 passengers). Business Class passengers and special category passengers will be boarding first.
Please respect the minimal distance of 2 meters in the passenger terminal and while boarding the aircraft.
We recommend that passengers adjust their hand baggage weight and amount to the current situation and transfer conditions – women's handbags, smaller backpacks and laptop cases that can be carried on the shoulder are allowed. Larger hand baggage must be dropped off at the check-in desk.
Cover your mouth and nose with a tissue when you cough or sneeze. If you don't have a tissue, cough or sneeze into your elbow.
Avoid touching surfaces onboard as much as possible, as well as using the air supply nozzles.
We have ensured that every passenger has cleaning wipes on board for wiping their seats (headrest, armrests, air supply nozzles…)
After the plane has landed, please remain seated until cabin crew calls you to leave the plane in smaller groups.
Please respect our recommendations, keep the minimal distance of 2 meters and wear a mask while exiting the aircraft and entering the passenger terminal.
You can find other important notices for passengers here.
---
PLEASE NOTE:
Due to a high volume of inquiries we kindly ask for your patience as our response might be delayed. Please note that passengers travelling within 72h have priority.
For entry requirements of the destination you're travelling to visit the following websites:
The latest information on COVID-19 can be found here:
To ensure you have all the relevant information to prepare for your journey and to fly with confidence, Star Alliance has put together the most relevant health and hygiene safety measures adopted by member airlines and airports of the Star Alliance network.
Use the interactive tool on the left and navigate your journey in one simple step - just enter your airline(s) and departure/arrival airport(s).
Furthermore, in the interest of the health and hygiene safety of customers, Star Alliance member airlines agree to the following: Commitments on Health and Hygiene Safety.
Testing for SARS-CoV-2 is also available at some airports in Croatia: