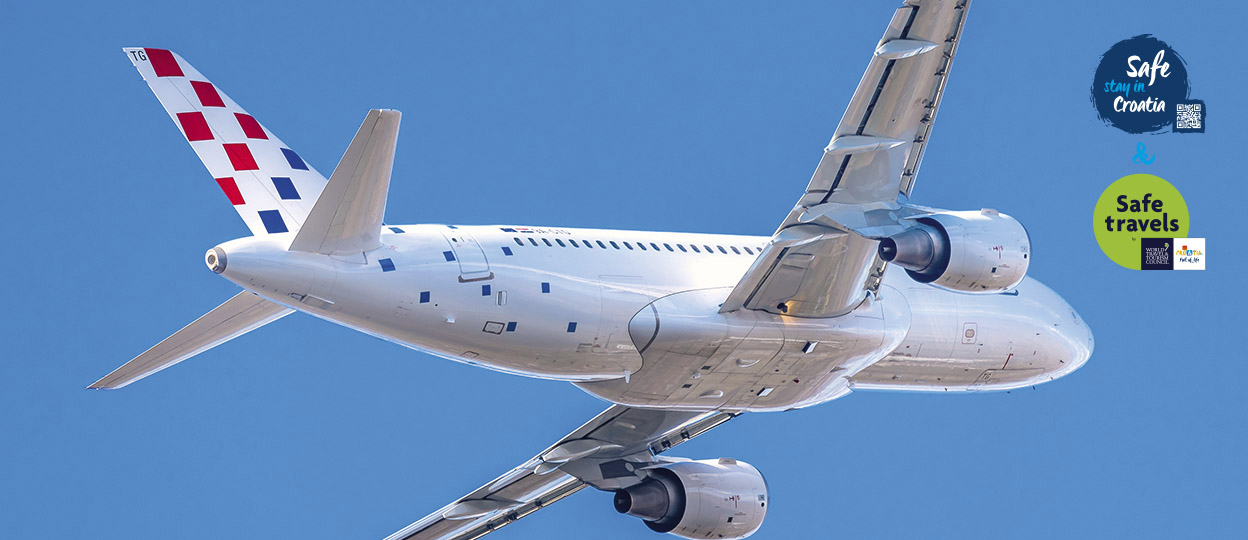 Timetable summer 2021
Flights from Zagreb
Amsterdam
Brussels
Copenhagen
Dublin
Frankfurt
Frankfurt
London (Heathrow)
Munich
Paris
Rome
Sarajevo
Skopje
Vienna
Zürich
Brač
Dubrovnik
Pula
Split
Zadar
Flights from Split
Berlin
Copenhagen
Dusseldorf
Frankfurt
London (Heathrow)
London (Gatwick)
Lyon
Munich
Paris
Prague
Rome
Vienna
Zürich
Osijek
Zagreb
Flights from Dubrovnik
Athens
Frankfurt
Munich
Paris
Rome
Zürich
Osijek
Zagreb
Flights from Rijeka
Flights from Zadar
Flights from Pula
Flights from Osijek
Flights from Brač
NOTE: All information above is subject to change due to the developing situation with COVID-19.
Detailed timetable can be found above.
Please check the current entry requirements and travel regulations for the destination you are travelling to before your departure. Detailed information can be found here.
Testing for SARS-CoV-2 is also available at some airports in Croatia:
Goodwill and cancellation policy for disruptions due to COVID-19
Passenger options for existing and newly booked tickets up to September 30th 2021 for flights up to October 30th 2021
Unlimited number of rebookings without rebooking fee. Changes are possible for new dates within validity of the ticket. If the original booking class is not available on the new flight, the fare difference will be charged. Date change must be completed before the beginning of the originally booked journey. Origin and destination cannot be changed.
Voucher refund for the total ticket value (including service fee). Voucher needs to be issued before the flight in the original ticket. Voucher can be transferred to another passenger. Name change is charged 40 EUR (international flights)/100 HRK (domestic flights). Voucher is valid for two years from the date of issue and needs to be used for booking in that period. Voucher request can be found here:
Full or partial refund of the ticket in case of cancelled flights. Due to the current situation caused by the Covid-19 pandemic, the processing of the request takes longer than usual. We kindly ask for your patience.
Please note:
Due to a high volume of calls and e-mail messages we are receiving, we kindly ask you to contact us if your flight is scheduled within the next 72 hours, we thank you for your patience.
For entry requirements of the destination you're travelling to visit the following websites:
PLEASE NOTE!
Passengers are required to bring and wear medical face protective masks that fully cover nose and mouth aboard all Croatia Airlines flights.
Acceptable protective masks include surgical masks and filtering half masks (FFP2, N95 or KN95 mask without valve).
Face shields may not be worn as a substitute for mouth-nose covers on our flights.
Children up to 6 years of age are exempt from wearing a face mask.
If you can't wear a face mask because of medical reasons you need to have a medical certificate from your physician.
We kindly ask you bring your own pen to fill out the necessary forms or to fill them out before your departure.
The latest information on COVID-19 can be found here:
To ensure you have all the relevant information to prepare for your journey and to fly with confidence, Star Alliance has put together the most relevant health and hygiene safety measures adopted by member airlines and airports of the Star Alliance network.
Use the interactive tool on the left and navigate your journey in one simple step - just enter your airline(s) and departure/arrival airport(s).
Furthermore, in the interest of the health and hygiene safety of customers, Star Alliance member airlines agree to the following: Commitments on Health and Hygiene Safety.