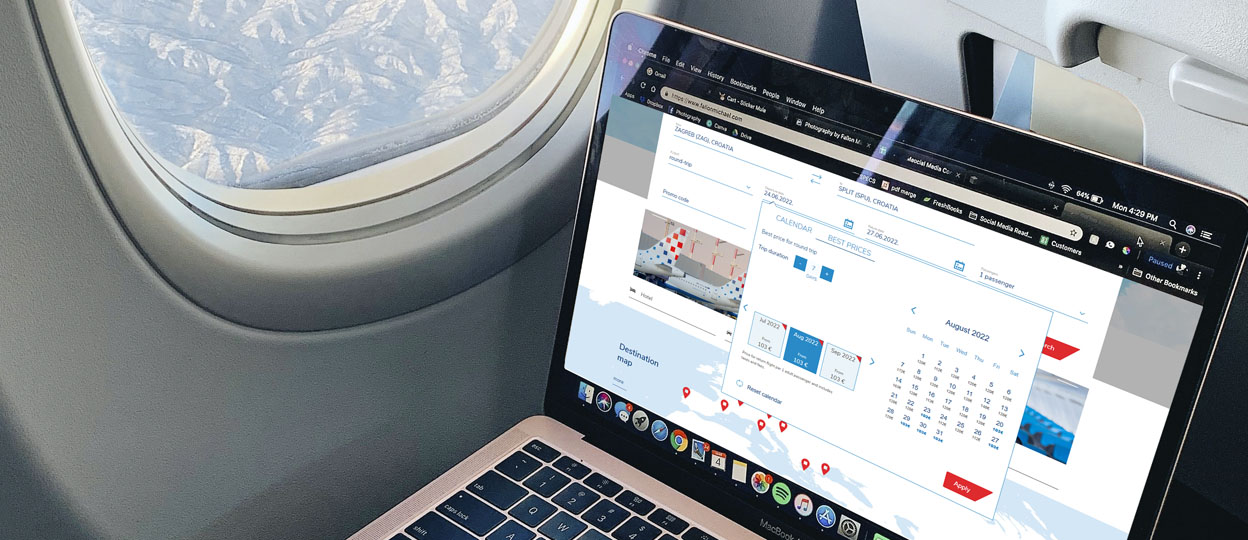 Find the cheapest flight!
Use our new Best prices calendar and find the cheapest flight to your desired destination. Enjoy your vacation to the fullest!
Decide on your destination, compare prices and book your cheap ticket!
You can find the Best prices calendar inside our flight finder, here's how to use it:
Pick the airport of your departure and arrival.
Choose

return

flight.
Inside the calendar click on the BEST PRICES tab to see all the available flight prices.
Choose your trip duration by clicking on +/- (max. 31 days)
On the left side of the BEST PRICES calendar prices are displayed by months, the red ribbon indicates the month with the lowest price available. Navigate through the coming months using the arrows on each side of the columns.
By clicking on a specific month, a display of prices by days appears on the right side of the BEST PRICES calendar. Select the desired departure date, and the return date will be determined automatically based on the pre-selected trip duration.
Once you have found the suitable flight price, click on the "Apply" button followed by the "Search" button in order to purchase your airline ticket.
Note:
In order to display the "Best prices" calendar, it is necessary to select the departure and arrival airport and a round-trip journey.
You can check the flight prices for the next 361 days in the "Best prices" calendar.
If there are no available flights on a certain date, the prices will not be displayed.
Prices may vary depending on demand.
The price refers to a return flight for one passenger, including taxes and fees.
The prices shown in the Best prices calendar are informative, the exact amount will be displayed during the booking process on the billing page.