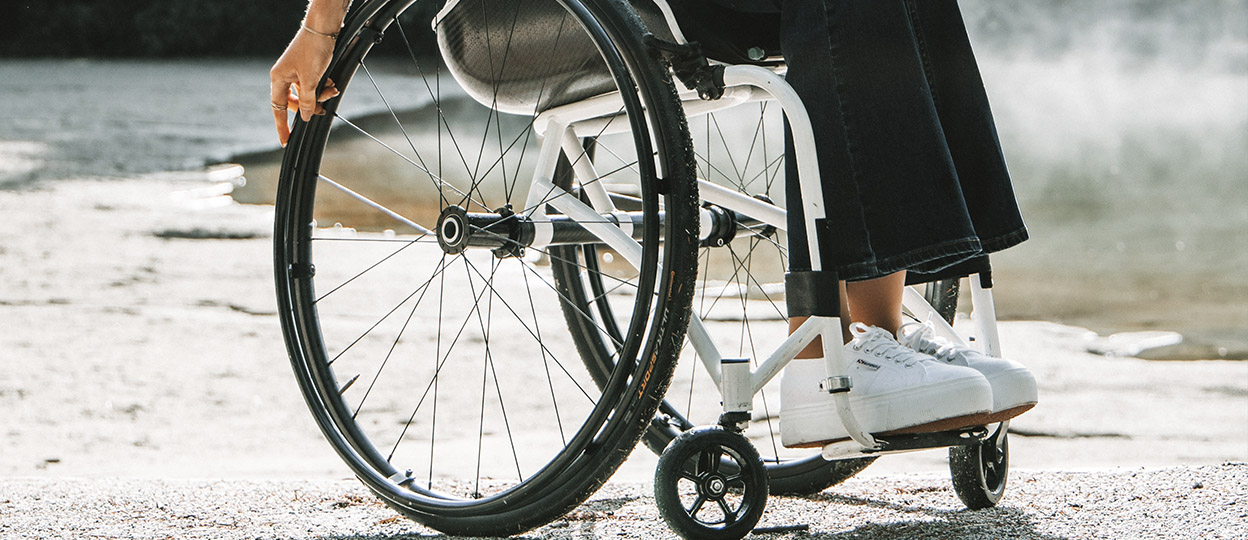 Accessible travel
Croatia Airlines provides special services to passengers with reduced mobility, i.e. a passenger whose physical, medical or mental condition requires individual attention and/or assistance which is normally not given to other passengers, in accordance with the Regulation (EC) No 1107/2006 of the Parliament and of the Council concerning the rights of disabled persons and persons with reduced mobility when travelling by air.
If you need assistance during your travel it is important to make a request for special service well in advance, preferably 72 hours, and not later than 24 hours before departure.
Please notify us of your requirements:
When booking by telephone or in our ticketing offices, please tell our agents which kind of assistance you require.
When booking on Croatia Airlines website, please send your request to flyonline@croatiaairlines.hr.
In case you did not require this service at booking you can always notify our Contact Center at contact@croatiaairlines.hr or +385 1 66 76 555.
Passengers with reduced mobility
If you need us to provide a wheelchair for your travel, please let us know the extent to which your mobility is reduced. This service is free and available for permanently disabled passengers, elderly passengers, passengers with simple a fracture (hand, foot).
If you are travelling with your own wheelchair, please notify us of its size and weight, any special features (e.g. folding/non-folding, sport/electric) and the type of battery (if battery-powered). In case the wheelchair is battery-powered, it has to be securely attached to the wheelchair and protected from short circuit by insulating the terminals (e.g. by taping over exposed terminals or putting plastic caps). Additionally, "wet" batteries need to be disconnected and secured.
Passengers with impaired hearing or vision
An assistance service for hearing impaired and blind or partially sighted passengers is provided free of charge. Please notify us of your disability and whether you are accompanied by a guide dog at time of booking so we can pass on the relevant information to our ground staff and cabin crew. You do not require a doctor's certificate.
Passengers who need medical clearance
Medical clearance is mandatory for passengers:
suffering from acute medical conditions (e.g. recent heart infarct, stroke)
with serious fractures and with arms and/or legs in casts or splints
with recent surgery
in the first few weeks after a serious disease has appeared
being transported on board in a lying position (stretcher passengers)
who require additional oxygen or other medical devices on board
travelling in order to undergo medical treatment
expectant mothers after 36th week of pregnancy
Special Assistance (MEDIF) Form
Please deliver (or fax) the form to Ustanova za zdravstvenu skrb "Profozić" (Trnjanska cesta 59, 10000 Zagreb, tel. +385 1 6310 824, fax +385 1 6310 825, e-mail: medicina.rada@poliklinika-profozic.hr) for approval and verification. Filled in and verified, the form must be submitted when purchasing the ticket and one copy shall be attached to the passenger ticket because it must be submitted again during check in.
Passengers who need to be accompanied
Passengers have to be accompanied if:
They are not able to follow safety instructions of the cabin crew members.
They are not able to participate in their own evacuation.
They need help when eating or using the toilet.
Escorts can be private or medical, depending on the type required in the clearance. Private escorts have to be at least 18 years old, acquainted with the escorted passenger's health condition, physically able to assist the passenger in case of emergency landing or and emergency evacuation, able to accompany the escorted passenger to and from the toilet and to help him use it and able to assist the escorted passenger at any situation all by himself. Medical escorts are person who have undergone adequate medical training, depending of type of passengers needing assistance during the flight.
Holders of a valid FREMEC
"FREMEC" is a frequent traveler's medical card. The holder of a valid FRAMEC is a non-MEDA case and needs no medical clearance or escort for travel. It is used for passenger with permanent or chronic reduced mobility. This medical card can be issued by some carriers. Croatia Airlines does not issue a FREMEC, but a FREMEC card is acceptable on Croatia Airlines flights.
Oxygen on board
Only company bottles may be used on board and passengers, request needs to made in the passenger's reservation no later than 72 hours before the flight. This service is charged 60 € per flight.
Statement on the Transport of Patients Needing Medical Oxygenation During the Flight
Passenger has to be trained to handle the oxygen bottle and he/she has to sign "Statement on the Transport of Patient Needing Medical Oxygenation During the Flight". Also, the form "Incapacitated passenger advice form" has to be completed by the passenger's physician and sent to Ustanova za zdravstvenu skrb "Profozić" (Trnjanska cesta 59, 10000 Zagreb, tel. +385 1 6310 824, fax +385 1 6310 825, e-mail: medicina.rada@poliklinika-profozic.hr) for approval and verification.
Portable Oxygen Concentrator
The use of portable oxygen concentrators (POC) is allowed and requires a medical and technical clearance from Croatia Airlines. Your physician has to verify your medical needs to use this device on board. The POC equipment must be FAA approved. For latest information please check here.
Use of Portable oxygen Concentrators (POC)
The passenger has to complete the POC and INCAD forms. The completed forms have to be sent to Ustanova za zdravstvenu skrb "Profozić" (Trnjanska cesta 59, 10000 Zagreb, tel. +385 1 6310 824, fax +385 1 6310 825, e-mail: medicina.rada@poliklinika-profozic.hr) for approval and verification.
Exception: On code-share flights with United Airlines to/from US the only requirement is to have a Medical Verification Statement signed by the passenger's physician.
Service animals
Trained service dogs (seeing eye dogs, hearing aid trained dogs, specially trained dogs to assist a person with disability, rescue dogs and search dogs):
travel free of charge
are accepted for transport in the passenger cabin, on a leash
the passenger travelling with a service animal is obliged to bring a muzzle in case it is needed for safety reasons.
A guide dog that accompanies deaf, blind or passenger with paraplegia, is accepted free of charge. It's weight and size is not restricted. The dog has to be properly harnessed, but not muzzled or caged. It does not occupy a seat, and it is not allowed to move around the cabin.
Reservations have to be made in advance. For additional information, please contact one of Croatia Airlines sales offices.