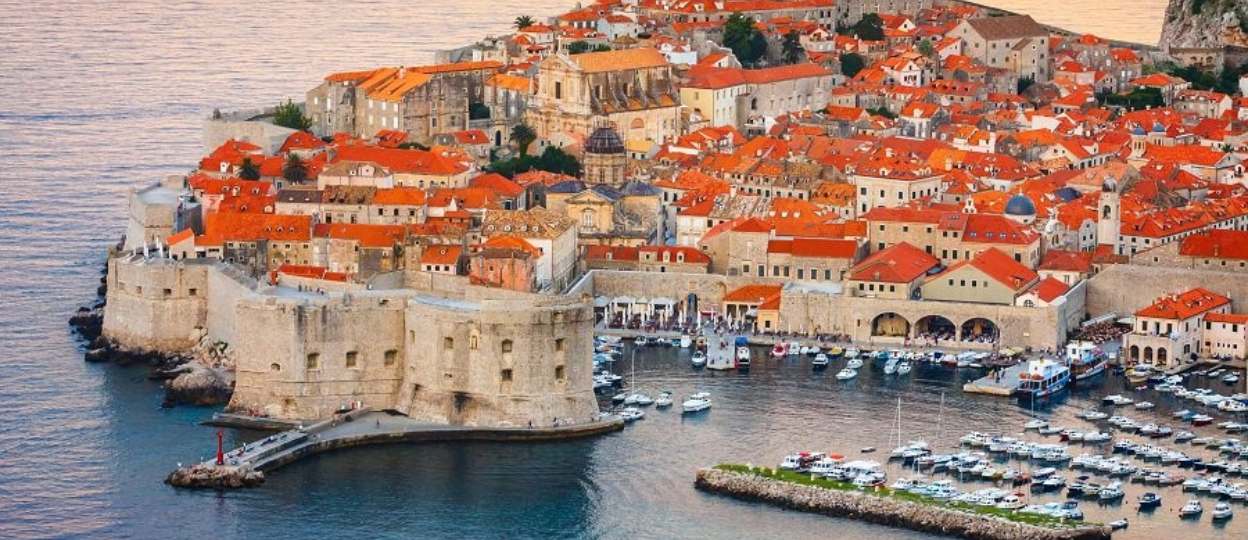 The history of Dubrovnik, spanning over one thousand years, is present in every part of the town. It is a living museum and stage, a perfect mixture of history and modernity. Fortified with medieval walls 1940m in length, preserved in their original form and open to visitors, they are the town's biggest attraction. The town has been listed as a UNESCO protected site since 1979. Dubrovnik is primarily a cultural destination which along with its architectural inheritance offers visitors a variety of cultural events and festivals. Dubrovnik is also a destination for a relaxing holiday and is exceptionally well served by airlines from all the major centres of Europe. Dubrovnik is a charming city one cannot but fall in love with and return to time and time again to enjoy some remarkable experiences.
Gastronomy
Dishes made from natural and organic food: zucchini, tomatoes, cabbage etc, prepared in a simple way with seasoning and olive oil
traditional dishes: prosciutto, cheese in oil, octopus salad, green "menestra", "šporke makarule" (beef stew with macaroni), whitebait friend in oil, grilled sardines
traditional sweets and drinks still prepared using the traditional recipes of "old grannies": "arancini" (made from untreated home-grown oranges), "kontonjata" (made from golden-yellow quinces), "mantala", dried figs, liqueurs (cherries are soaked in alcohol and sugar and put out into the sun, green walnuts, loquats, rose petals…)
wines: different red and white wines from Dubrovnik and the surrounding region:

red: Plavac, Dingač and Postup,
white: Pošip from the island of Korčula…

"Plavac mali", the best-known sort from the vineyards of the Pelješac Peninsula
Dubrovačka Malvasija (ancient wine of Dubrovnik nobles)
Sights
city walls and forts, Lovrijenac fort, The Stradun (the large and small Onofrio's Fountain, Orlando's Column, Bell Tower with two famous figures called Zelenci, Rector's Palace, Sponza Palace), squares (Gundulić, Bunić and Bošković squares), city port, Kaše, Porporela, Lazarettos, Aquarium…
churches: Saint Blaise (Sv. Vlaho), Franciscan Monastery of the Friars Minor, Cathedral, Saint Saviour (Sv. Spas), Dominican Monastery …
Mount Srđ – panorama and museum
Novi most ("New Bridge")
museums and galleries: Dubrovnik museums, Cultural and Historical Museum in the Rector's Palace, The Rupe Ethnographic Museum, Maritime Museum, The Home of Marin Držić, Franciscan Monastery Museum of the Friars Minor, The Cathedral Treasury, Dominican Monastery Museum, Dubrovnik Natural Science Museum, Museum of Icons of the Serbian Orthodox Church Community, The Synagogue Jewish Museum, Sigurata Convent Museum, Memorial Room of Dubrovnik Defenders in the Sponza Palace, Croatian War of Independence Museum – Dubrovnik, Ronald Brown Memorial House, Museum of Modern Art Dubrovnik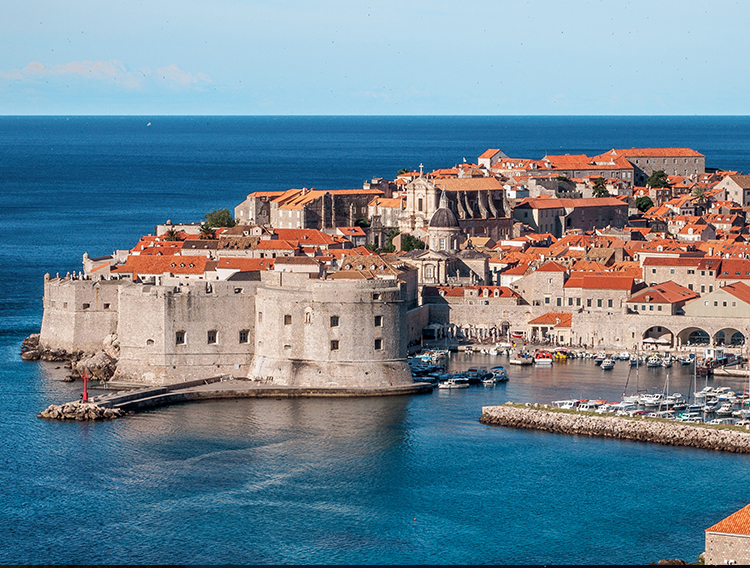 Travel to Croatia with Croatia Airlines
Book your flight on our official website or at any Croatia Airlines sales office in city centers or at the airport. Web check-in is available between 36 hours and up to one hour prior to scheduled departure time. You can also check in at the departure airport 120 minutes before take off. Book your affordable flight on time.
Additional services included in the price of the ticket
The price of the flight ticket includes food and drinks served on board, as well as web check-in and accrual of miles in Miles & More or any other Star Alliance frequent flyer programme. You will also find your personal copy of our inflight magazine CROATIA on board. The magazine promotes Croatian cultural and historical heritage, as well as current events, but also presents you with Croatia Airlines destinations and many other interesting and entertaining topics.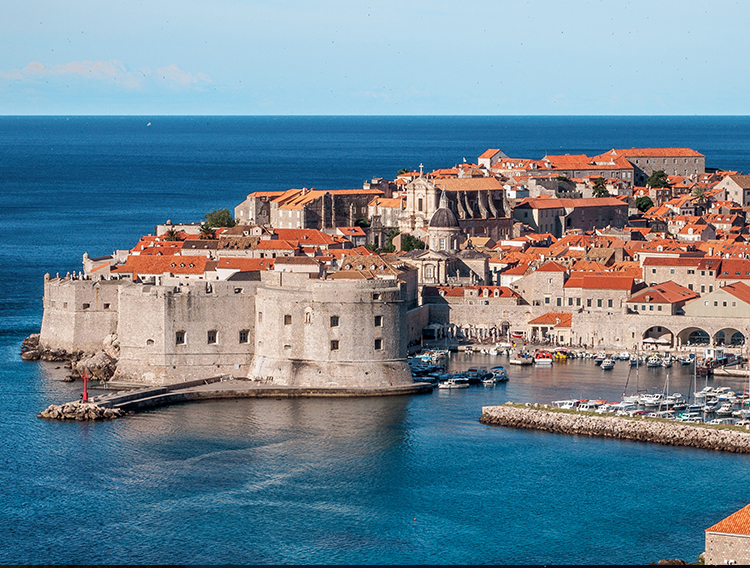 The prices refer to the one-way flights and include airport taxes and the Ticket Service Charge for purchase on our website.
Ticket sales: indefinite
Travel period: indefinite
Minimum stay : none
Changes: Travel safely and worry-free with us! Find the changed conditions of our fare families here.
The number of seats available at the above given price is limited on each flight.
Prices can vary due to changes of airport taxes.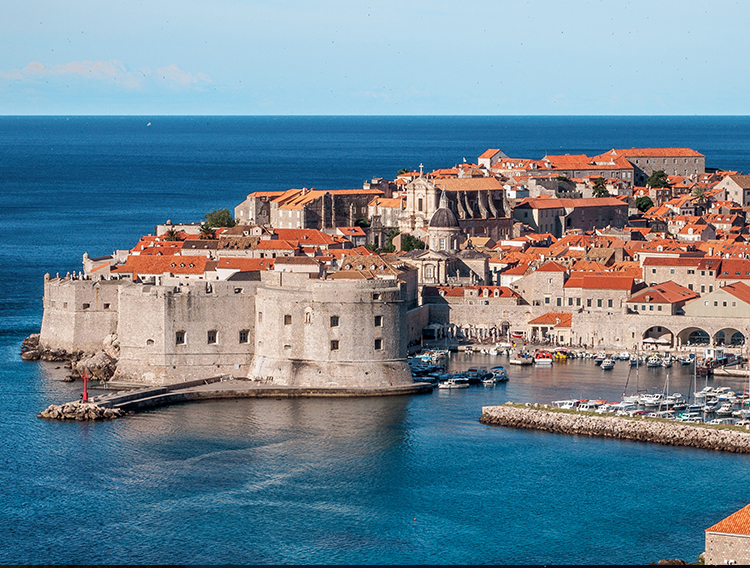 Find out more:
City
Transport information
Dubrovnik
Platanus Travel Agency travel agency's bus stations:

- Main bus station – Gruž
- bus station next to Grawe insurance building
- Cable car bus station
- Main bus station

For more infomation please contact Platanus Travel Agency (Tel: +385 20 358 516) or Dubrovnik Airport (Tel: +385 20 773 100).

Pula
Bus transport has been organised in cooperation with the company Flis d.o.o., and passengers will be transported by shuttle bus from the city of Pula to the Airport and back. During April, the bus timetable will follow the flight schedule, and starting from May buses will depart every hour. You can view the schedule here.
The price of one ticket is HRK 30, and tickets can be purchased in the bus or online.

Find out more here.
Rijeka
Rijeka - Zagreb


Pleso Prijevoz is the company that organizes van transport between the city of Rijeka and Zagreb Airport.
Departure from Zagreb Airport to Rijeka (Main bus station - Žabica) is every day at 15:30.
Departure from Rijeka (Jelačić Square) to Zagreb Airport is every morning at 05:00.

NEW! Online sales: www.plesoprijevoz.hr

Info Tel. (+385-51) 330-207,336-757,(+385-1)6331-999; Mob (+385-98)472-539

Split
Bus transport is organized in co-operation with Pleso Prijevoz. You can check the timetable here.
Contact: tel. +385-21-203-119, +385-21-203-508, +385-21-203-507; e-mail: split@plesoprijevoz.hr; website: www.plesoprijevoz.hr.
Zadar
Bus transport is organized in co-operation with Liburnija, and the bus leaves the airport soon after the arrival of Croatia Airlines scheduled flight or 75 minutes before its departure. You can find more details here or call +385-23-250-094.

Zagreb
Bus transport is organized in co-operation with Pleso Prijevoz.
You can check the timetable here
For all departures before 6 a.m. and after 8 p.m. please look for information on +385-1-6331-982, e-mail: plesoprijevoz@plesoprijevoz.hr or at www.plesoprijevoz.hr
Checked baggage – prices and conditions
If you want to purchase a FlyEasy ticket, but you have baggage that you wish to check in, you can pay for that service.
First bag (up to 23 kg and 115 cm) will be charged as follows:

| Flights within Croatia | International flights |
| --- | --- |
| 80 HRK + PDV per direction up to 24 hours before departure | 30 € per direction up to 24 hours before departure |
| 120 HRK + PDV per direction within 24 hours before departure | 40 € per direction within 24 hours before departure |

This service can be bought during the booking process on our website, via our Contact Center and in any sales office. The option of adding a bag is not available if you are booking on our mobile website/application.
If you have not purchased a bag during the booking process, you can do so subsequently on our website (Manage my booking), by calling our Contact Center or in our sales offices.
This service can be purchased at any time before your flight, except on our website where you can book your flight and additional service no later than 2 hours before take-off.
The amount paid for transporting your first bag cannot be refunded. In case of change, the service will be used for the new flight.
Excess baggage (transportation of additional bags and non-standard baggage) will be charged as before. All prices and conditions can be found here.
Comparison of fare families
You still have at your disposal all the other fare families giving you more options and flexibility – FlyOpti and FlyFlexi in Economy Class, as well as FlyBizz for Business Class passengers.
For detailed information click
here