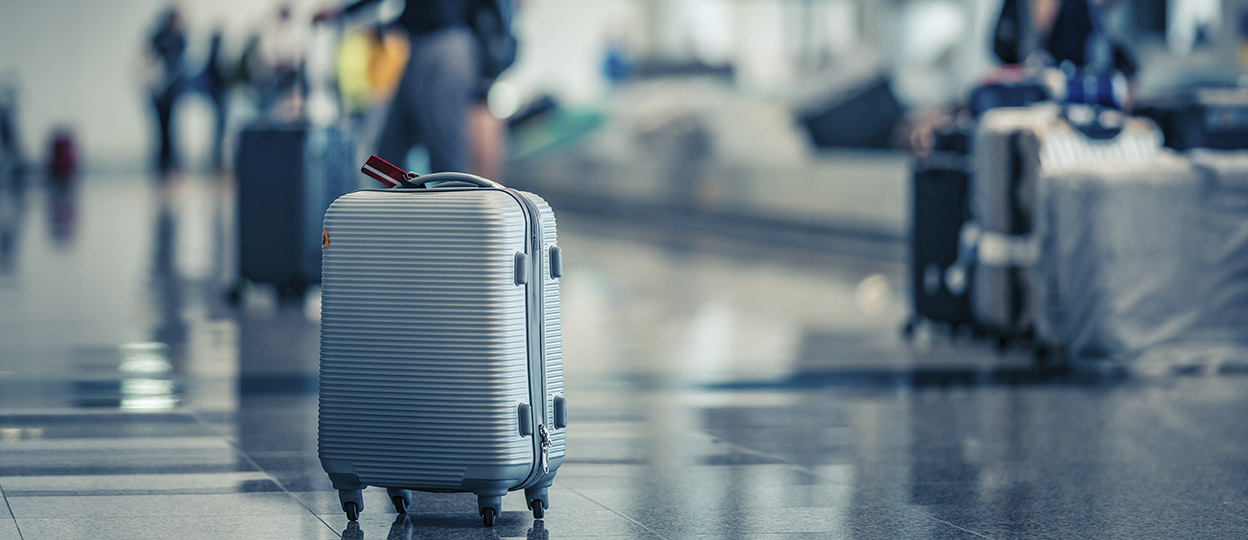 Checked baggage
Checked baggage included in the price of your ticket
Croatia Airlines passengers are entitled to free baggage allowance on domestic and international flights according to the following:
| | FlyEasy | FlyOpti | FlyFlexi | FlyBizz |
| --- | --- | --- | --- | --- |
| Infants | x | 1 x 23 kg | 1 x 23 kg | 1 x 23 kg |
| Adults / Children | x | 1 x 23 kg | 1 x 23 kg | 2 x 32 kg |
| M & M members FF (silver) | x | 2 x 23 kg | 2 x 23 kg | 2 x 32 kg |
| HON Circle, Senator and Star Gold | 1 x 23 kg | 2 x 23 kg | 2 x 23 kg | 3 x 32 kg |
Additionally, children under 4 are entitled to transport of one collapsible buggy.
Checked baggage size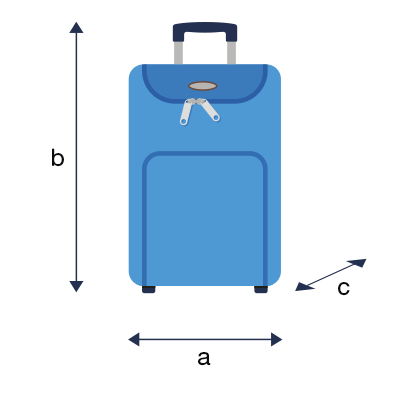 The maximum size per piece of baggage, regardless of class,:
a + b + c = max. 158 cm
First bag fares with FlyEasy
If you have a FlyEasy ticket and still wish to travel with checked baggage, you can always purchase the service of transporting checked baggage.
| | Flights within Croatia | International flights |
| --- | --- | --- |
| per direction up to 24 hours before flight | 80 HRK + 25% VAT | 30 € |
| per direction within 24 hours before departure | 120 HRK + 25% VAT | 40 € |
You can purchase this service during the ticket purchasing process on our web page, or via our Contact Centre and branches. Purchase via mobile phone is not available. If you didn't purchase baggage transport while you were buying your ticket, you can still do so later on our web page (My bookings), or via our Contact Centre and offices.
You can also purchase this service just before your trip. However, for purchases made via our web page, flight tickets and baggage transport services must be purchased no later than 2 hours before take-off.
First bag fee is non refundable.
Should the baggage exceed the allowed limit, the excess will be charged per piece. Any larger number, weight or size of baggage must be declared on making the flight reservation. For journeys outside Europe baggage policy of interline partners applies.
If, during your journey, a Croatia Airlines flight is combined with a flight operated by another airline, your baggage will be subject to the regulations of the airline with which you fly the longest or most significant route. This rule is applicable for the same compartment bookings. The Croatia Airlines baggage concept may be more generous than other airlines'. When connecting to other airlines, the passenger may be charged for excess baggage.
When traveling on one of the OU code-share partner flights, that airline's baggage concept applies. You may be subject to additional regulations if you fly with other airlines (e.g. Lufthansa, Austrian Airlines etc.).
IMPORTANT! For excess baggage on international flights bought on the day of departure in Croatia and Bosnia and Herzegovina an additional charge of 10 EUR will apply.
Cancellation is only possible before flight departure.
A passenger can benefit from a higher liability limit by making a special declaration and by paying a supplementary fee at the departure airport.
Please send the completed Excess Value Declaration no later than 24 hours prior to the scheduled departure time to our Contact Center (fax number +385 (1) 616 0250, e-mail: contact@croatiaairlines.hr.