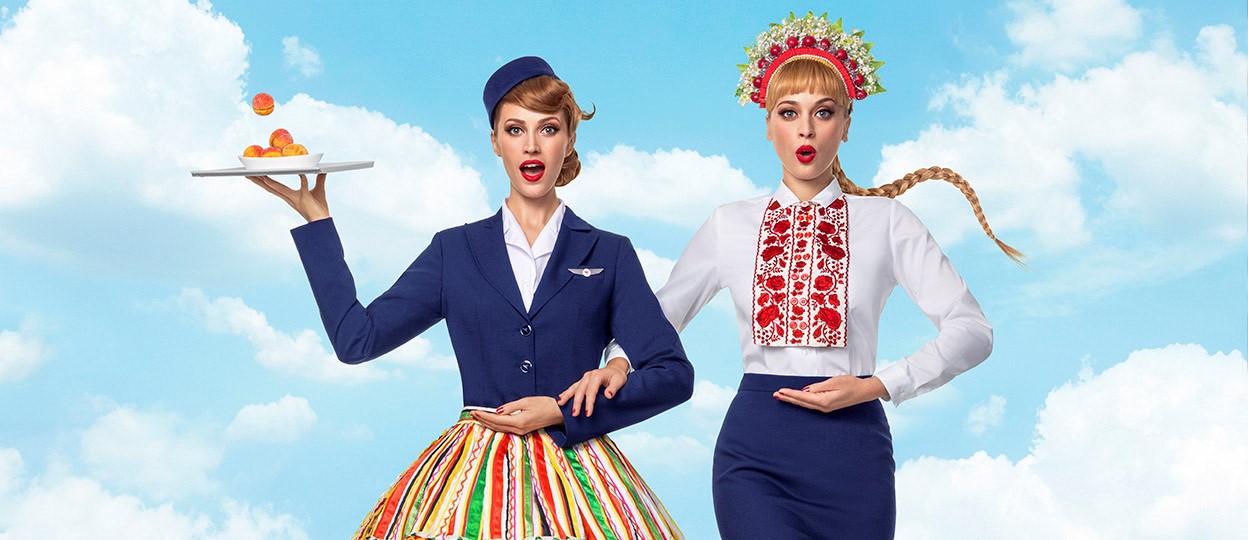 Food and beverages
The flavours of Zagreb are in the air!
Thanks to our collaboration with the Zagreb Tourist Board our passengers will feel a touch of Zagreb already on the plane.
On all Croatia Airlines flights our passengers are offered free food and beverages which vary depending on the class of travel and the flight duration.
Business Class
On our domestic and international flights snacks are served to our passengers. A large selection of drinks is offered: juices, wine, coffee, tea.
International flights longer than one hour
Bigger snack - crackers with fresh cheese, garlic sausage, poppy seed roll, pepper gingerbread cookie, horseradish and apple sauce.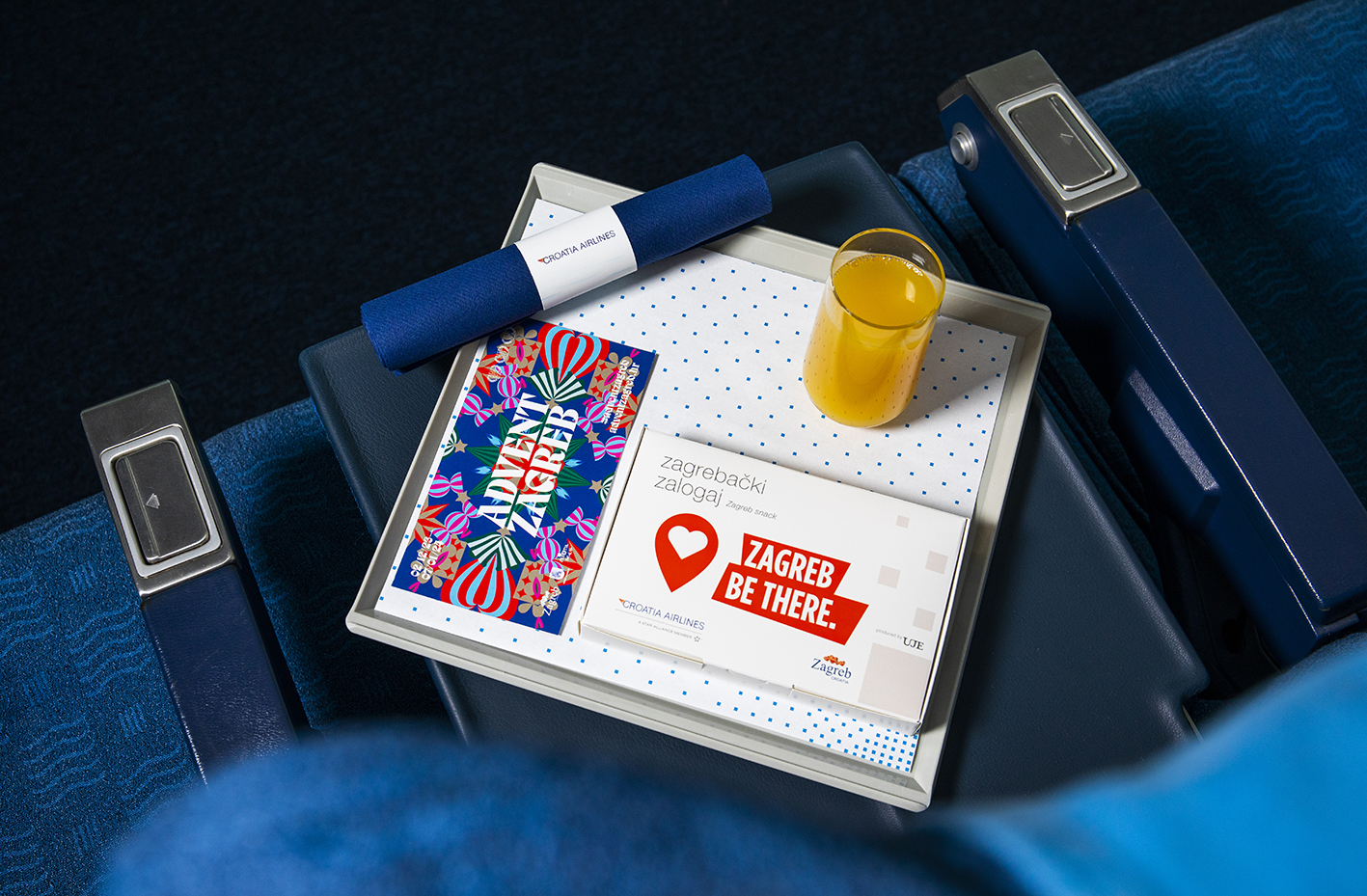 Domestic and international flights shorter than one hour
Smaller snack - crackers with fresh cheese, garlic sausage, poppy seed roll.
Economy Class
On our international flights we serve crackers with fresh cheese. Water is also available.
In addition to our regular service, we have prepared additional offers for you:
During the flight you can choose something from a selection of products made by our partner Uje. For products and prices click here.
Special meals
Special meals are offered on all flights in Business Class. You can order a special meal while purchasing your ticket but it has to be done at least 24 hour prior to the flight. Please contact your nearest Croatia Airlines office for more information.
Special meals are:
DBML, a meal for diabetics. The meal is prepared without foodstuffs which cause a sudden increase of the level of glucose, with a careful allotment of protein, carbohydrates and fat. The meal is prepared with non-fat foodstuffs, and is rich in vegetables and fruit, along with a moderate quantity of carbohydrates.
GFML, a meal not containing gluten – the meal excludes wheat and all products containing wheat, oat, barley and rye, including products with a possible addition of flour. The manufacturer guarantees for the rolls served with the meal. All thermally treated foodstuffs are prepared separately (e.g., oil).
BLML, a meal for persons suffering from ulcer – also suitable for chronic or acute gastritis. It is prepared using cooked non-fat beef, veal, chicken, turkey, accompanied by rice and pasta. Spicy seasonings and additives are avoided. The fruit is cooked, for example, fresh apple compote (with little sugar added).
NLML, a meal without milk products, lactose – milk and milk products are not used in its preparation. The foodstuffs used for this meal are meat, fish, poultry, rolls without milk, vegetables and fresh fruit.
LFML, a meal with a low quantity of fat (cholesterol) – a diet for people suffering from heart and artery diseases, as well as gallstones. It is characterized by the low amount of calories and a limited quantity of foodstuffs rich in cholesterol. The foodstuffs used in preparing the meals is non-fat beef, veal, poultry, fish, fresh cheese, vegetables and fruit. The quantity of salt is diminished.
LSML, a meal with low quantity of salt/natrium, intended for persons with high blood pressure. All thermally treated ingredients used in the preparation of this meal are prepared separately, without the addition of salt. All the foodstuffs are fresh or recently frozen.
LCML, a meal with a low quantity of calories-intended for diets which control energy intake. The quantity of protein is limited, and frying and bread-crumbs are not permitted in the thermal treatment of the foodstuffs. Meals are cooked or roasted. The meat is non-fat (fish, poultry, veal).
KSML, a 'kosher' meal – prepared by an authorized manufacturer of kosher meals with a certificate.
MOML, offers a meal with no pork meat, that is, with no additives containing pork or related products, jelly, as well as alcohol. Substitutes for this meal can also be VGML, which isprepared using exclusively foodstuffs of vegetable origin, or SFML, which, apart from containing all kinds of fruit and vegetables, also offers fish, and exclusively vegetable fats are used.
HNML, a Hindu meal, prepared without beef, beef products and without pork. In preparing the meal all the traditional Hindu seasonings available on the Croatian market are used.
AVLM, an Asian/Indian vegetarian meal. It is prepared using exclusively foodstuffs of vegetable origin, with characteristic seasonings. Milk and milk products are left out. In case of additional restrictions, the same ought to be especially mentioned (for example, root vegetables, etc.) The meals prepared depend on foodstuffs available on the Croatian market, as well as the choice of seasonings. The rolls served with the meal are made of integral flour.
VJLM, Cegetarian foods prepared Indian style and according to Jain customs. Products with added Omega 3 fatty acids are omitted.
VOLM, Vegetarian foods prepared on Chinese style. Products with added Omega 3 fatty acids are omitted.
VGLM, a vegetarian meal, vegan. Prepared exclusively with foodstuffs of vegetable origin or foodstuffs specially marked by the manufacturer (for example, pasta without eggs).
VLML, a vegetarian meal with milk products and eggs. Among foodstuffs of animal origin, milk and milk products, as well as eggs and egg products are permitted.
RVML, a meal containing only fresh fruit and vegetables. It is prepared using exclusively fresh fruit and vegetables not thermally treated or conserved.
FPML, a meal containing fruit. Of all the foodstuffs, in this meal only fruit is permitted, fresh, with no additives or conserved without sugar (for example, a fresh apple compote, without sugar.)
SFML, a seafood meal, prepared with fish, vegetables, fruit and carbohydrates. The eggs are allowed .The fat used is exclusively of vegetable origin.
BBML, meals for infants. A product originally packed by the manufacturer. Should the age of the infant not be mentioned, the aircraft receives mashed meals proper for infants aged six months. Otherwise, the meals are intended for children up to two years of age.
Please take a-look at these airline websites which extends our webpage, with site builder enhancements
CHML, a meal for children, intended for children from two to six years of age. Pieces of meat are always cut up or in a shape appropriate to the age of children. The quantity of seasoning is reduced.
SPML, special meals. This code is used to mark all the remaining non-standard meals. All ingredients and/or way of meal preparation have to be specifeid.
Allergy to peanuts and other nuts
At Croatia Airlines, we do not offer meals containing peanuts; nevertheless, we cannot guarantee that the ingredients had no incidental contact with peanuts or their products. In addition, peanut residuals could remain in the passenger cabin from a previous flight or be brought into the cabin in passengers' carry-on baggage.
In case of severe allergy to peanuts and other nuts, please take the following cautionary steps:
Please inform us of your allergy at booking.

Send the name of the passenger suffering from the allergy as well as flight number and date to: contact@croatiaairlines.hr.

Please contact the Cabin Service Manager so that we could take the necessary precaution measures and inform other passengers not to eat nuts during the flight.

Please keep your usual allergen exposure medicine on you.
NOTE: Our cabin crew are not trained for EpiPen administration in case of an allergic reaction or anaphylactic shock. Children and persons under 18 who use EpiPen must be accompanied by persons who are trained in using the autoinjector.