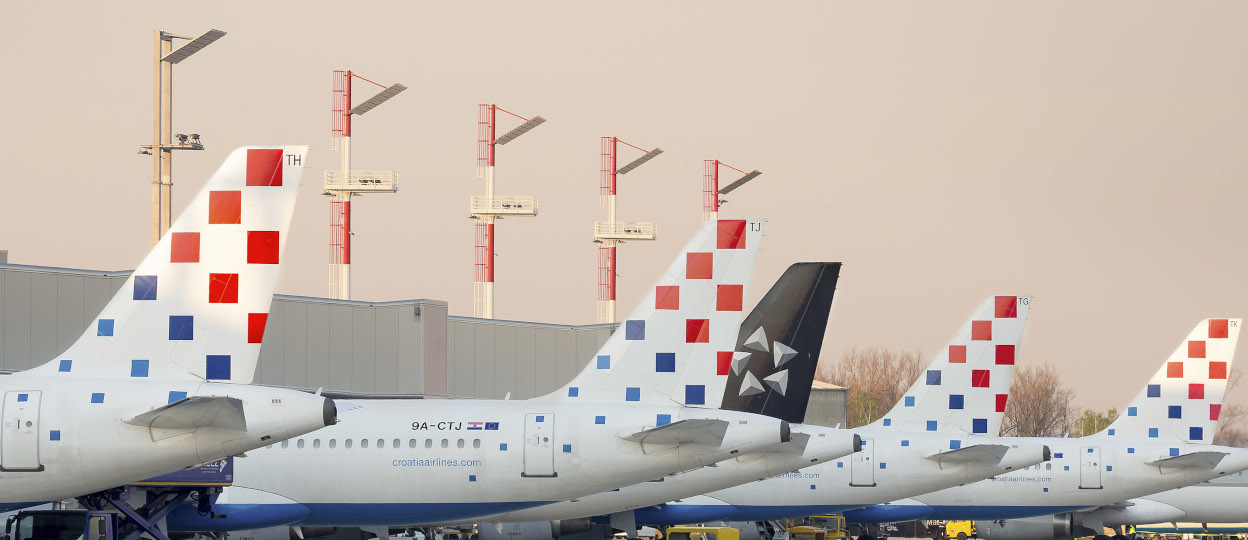 How to use FlyOnLine (step-by-step)
Please read carefully how to book your flights and buy your ticket with FlyOnLine
In the From field, choose one of departure cities.
In the To field, choose one of Croatia Airlines destinations.
Select the type of flight: one-way or return.
Select departure and arrival dates.
Select the number and type of passengers. Maximal number of passengers per reservation is 6. One infant (not occupying a separate seat) is permitted per adult passenger.
Choose how you wish to search the flights: In the period of +/- 3 days or only for selected dates
Click Search to check the offered flights and availability.
Depending on flight search in domestic and international travel, you will get displayed available flights/prices.
If you choose to search only for flights on selected dates, you will obtain flight information (time of departure/arrival, flight number, stopover) and several prices for each flight, depending on availability. The flight to your destination and the flight back will be displayed separately. By clicking on the name of the fare family, you will get more detailed explanation of the fare and you will be able to compare different prices and conditions. If you choose to search for flights in the period of +/- 3 days, you will get an additional menu with the lowest price for flights on the selected date, +/- 3 days. When you click on the price you will obtain all flights and prices for the selected date.
If you choose to search for flights on selected dates only, you will obtain fare families and prices. Below you will see available flights. Depending on the price you choose, you can select the given flight. If you are not offered the option of choosing the flight you wish to take, you have to change the price and fare type depending on the colour in the upper right corner. If you choose to search the flights in the period of +/- 3 days from the selected date, you will get the matrix 7*7 (three days before and after and the selected date), with the lowest available price on the chosen date. By clicking on the price, you will get a detailed display of prices and flight availibility on the given dates.
Choose the flight and fare and click Select.

Check the itinerary, offered price and click Book This Fare.

Enter the personal data of the passengers (name, surname, frequent flyer number, e-mail address, telephone numbers).

Read the Conditions of Carriage and important information and confirm your acceptance of it.

Choose whether you would like to receive information on news and special offers of Croatia Airlines by e-mail or sms and confirm your acceptance of the conditions.

Click on Proceed with reservation

Enter the personal data of other passengers if you are booking seats for more passengers and, if you wish, choose the preferred meal, then click Continue.

Go through the details related to chosen flights and fares, and click on the seat map if you wish to book a specific seat.

Confirm that you agree with tariff conditions by clicking in front of the statement of acceptance.
Please read the tariff conditions! Tickets bought at special fares usually do not allow any changes, or rebooking / cancellation penalty applies.
Click on "confirm the reservation"
Enter details of the credit card that will be used to make payment .
Confirm your reservation by clicking Confirm or, if you are not fully satisfied with your booking, go to Start over.
Please check your incoming e-mail messages.
After successfully making the reservation and paying for it, you will receive an e-mail message with details of your reservation, payment confirmation and your electronic ticket number.
Methods of Payment
Before completing your online reservation, you will need to enter credit card information of the first passenger. The card will be authorised and payment processed, after which the reservation will be confirmed. You will receive the confirmation with all reservation details, as well as the payment confirmation and information about your e-tix number or location where you should collect your paper ticket. If the payment should, for any reason, be unsuccessful, you will receive a confirmation of the reservation and information about the reason for rejecting the payment. In such case, you need to contact a Croatia Airlines office within 48 hours and agree upon the method of payment. Online payment is available to users of American Express, Diners, Discover, Mastercard and Visa cards. You can also pay by Maestro debit card. Users of Visa Premium, Visa Inspire and Maestro cards issued by PBZ Card in the Republic of Croatia, as well as users of Diners can pay in 2 or 3 instalments. Payment can also be made via Keks Pay app.
How to change and cancel your reservation
If you need to make changes after your booking has been confirmed and payment processed, please contact your local Croatia Airlines office or send us your request at flyonline@croatiaairlines.hr. Please note that tickets issued at some low-rate or similar special fares will not allow you to make any changes, or rebooking / cancellation penalty will apply. All changes will be subject to availability and capacity control and possible fare variation. In order to know in advance whether the price you will pay allows changes and/or cancellations, please read tariff conditions (Conditions) that you will need to agree with. Please have your reservation number ready before contacting the Croatia Airlines staff or making any changes. You can find the reservation number in any e-mail confirmation.
Fares and Taxes, Fees and Charges
By using this Internet booking service, you will be subject to fare rules that apply to the selected fare you have chosen. These rules can be found on the Conditions page. This page will be available to you during the reservation process before you confirm the reservation. We kindly ask you to read the conditions carefully. The taxes will be shown separately from the advertised fare. The total quoted fare will be inclusive of all charges.